Penny Mallory
Penny is one of the Uk's most sought after Motivational Speakers, thanks to a colourful career in Motorsport and television. As one of the first female drivers in the World Championship Rally, and the first woman ever to compete in a World Rally Car (the equivalent of an off road Formula 1 car).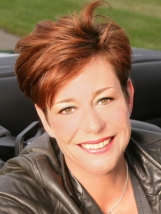 "Identify what your goal is, be specific. I mean REALLY specific. Without a goal, or 'destination' set clearly in your mind, how on earth will you ever get where you are going?" Penny Mallory is highly respected.
As a broadcaster she has fronted numerous programmes including Channel 4's Driven, ITV's The Used Car Roadshow, and Discovery's Classic Car Show. She has reported live for GMTV and BBC Breakfast and is used to working on location or live in the studio. Penny has been selected as a Patron of the recently launched Everywoman's Modern Muse; a National movement to inspire the next generation of women to become business leaders and entrepreneurs.
The on-line organisation is the UK's largest female business community and the three-year initiative aims to reach 1 million women encouraging 100,000 to run or lead a business in the next decade. In her book Take Control Of Your Life Penny Mallory uses her driving successes as analogies of how you can transform your life.
A highly sought after motivational speaker and conference host Penny also works in schools, prisons and with the homeless to help people get their life on track. A mother of two she still finds time to set herself a new challenge each year to test her own comfort zone. This year she conquered Europe's highest mountain, Mount Elbrus, via the remote north face. She is also a boxer, marathon runner and active supporter of her two chosen charities Barnardo's and Crisis.
What she presents:
Penny Mallory shows you how to identify goals, design strategies and have the mental discipline to achieve them, charting her life from homeless teenager to successful businesswoman.