Steve Wozniak
Steve Wozniak, computer expert , philanthrope and co-founder of Apple Computer, Inc.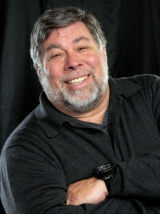 "We did not have any money either experiences with business making, just a few good predesigns and good people as well as vision about how the new computer should look like. Our timing was good as well." He is a legend and visionarist, who sees technological requests of the future. He belongs to one of the most accomplished personalities of the world of computers. With his vision of the computer accessible for everyone, he constructed the first personal computer which expanded to more than millions of households around the globe and later on he established company called Apple. Computers Apple I and Apple II belonged to most sold personal computers in 7oties and in beginning of 80ties. Steve Wozniak leaved Apple in the middle of 8oties and he devoted himself to charity in sphere of education, he instructed IT and organized concerts to support philanthrophic projects. His values and attitudes were formed in his family. His father inspired him and he graved him his admire to electronic, creative freedom and ability to find solutions, but also ethics and fair dealing. His second company called Cloud 9 in year 1987 educed and launched first universal beeper CORE. WoZ ( "Wheels of Zeus") is the name of the company he established in 2002 a he finished its activity in 2006, when he start up the activity of new company Acquicor Technology. Steve Wozniak acquired appreciation and many honours for his contribution to development in IT. In year 1985 he received acknowledgement "National Medal of Technology" from the president of USA, in year 2000 he was adduced to the National hall of fame of inventors. Steve encourages free thinking and the creativity of young people, he advices them to avoid conformity and drug abuse, because these take away the control of own life and destiny. He has several nicknames such as "The Woz", "Wonderful Wizard of Woz" and "iWoz". He wrote his autobio book called "I, Woz", that came out in 2006. His thoughts had big influence to the life we live nowadays and thanks to him we have information at disposal which we can obtain by touch of the finger.

What he presents:

Steve Wozniak approaches each presentation very distinctively. He agrees directly with the organizer of the event on the topic of his presentation to conform with event type and atmosphere.